[ Friday, June 24, 2011 ]
Kitty graduated kindergarten today. It was a very emotional morning. She really enjoyed the year and became very attached to her friends and teachers. It was great to see the whole class perform a modified version of "New York, New York" ("I want to be a part of it... first grade, first grade"). Her teacher presented awards, and Kitty received a diploma look-alike that gives her the "Cat Award" for her passion for all things feline. Very cute. Along with the diploma we received her scorecard. Once again her reading skills blew the benchmark away, even topping her earlier January scores. She scored 102 points for reading (benchmark is 28), and 96 out of 100 for math (a small decrease from her perfect January score). She is reading at 3rd/4th grade level now.
[ Thursday, June 16, 2011 ]
It's been such a long time, but we are so busy now that it doesn't feel that way. Since the last post, Kitty developed "shark's teeth" when two permanent lower teeth came out behind the baby teeth. Since the baby teeth wouldn't fall out on their own, the dentist had to pull them. I was horrified by the idea but it turned out to be relatively easy. Kitty had a quick one-day down time, and was already back in the school the next day.
She spent Easter in Texas with the grandparents, and already has a beach trip planned with them for the summer. It's hard to believe she graduates kindergarten next week. Her reading has continued to evolve rapidly and she easily reads 3rd grade books on her own. This week she got her own library card.
A couple of months ago I got an iPad tablet, and she has taken it over. In addition to a number of books, she has several games that she figured out entirely on her own. Her favorite is Tiny Zoo, a sim game that also has Jeff completely addicted. Her ease with technology continues to amaze me.
[ Monday, January 17, 2011 ]
Kate is a spoiled traveler. After flying to Japan in first class, she overheard us talking about possibly not being able to upgrade on the flight home. Later that day, out of the blue, she told me: "Mama, can you call the flight people and ask them not to put me in Economy? I don't understand why they want me to fly in Economy". I almost collapsed in laughter. Fast forward to our return home from France (in Economy), over a month later. I had my headphones on when the flight attendant collected our lunch trays. Out of the corner of my eye, I saw Kate say something, and the flight attendant laughing so hard she could barely breathe. I took off my headphones and asked Kate what had happened. Kate looked very puzzled and replied "I don't know, Mama. All I said was that the food was pretty good for Economy".
Now that the holiday madness is finally behind us, I can take a few minutes to write about the amazing last couple of months. In October, Kate enjoyed "Boo at the Zoo" dressed as a black cat, then went trick or treating on Halloween dressed as Marie (white cat). In November, I left for a 2-week business trip to South Africa. I sent Kate photos of my safari and the day I visited a sanctuary and petted a couple of young cheetahs. Kate has been obsessed with wild cats ever since. Three days after I got back, Jeff and I took Kate to Japan. It was an unbelievable experience. Kate charmed every Japanese who crossed her path, and then proceeded to enchant the flight attendants on our trip home. She was a great traveler, and I will be forever grateful for the games and apps on my iphone, which kept her entertained on long train rides. As soon as we got back, it was her 6th birthday and we celebrated with a cooking class for several of her friends. The next thing we know, it's Christmas. We had our traditional Christmas Eve dinner at home, then visited Jeff's family the next morning and rushed to the airport to meet Gigi, GrandDad, and David. The six of us flew to Paris, then drove 7 hours to my beloved Beynac. We spent New Year's there, and a few days in Paris before getting back. Time just flew, but I wouldn't trade those memories for the world. Photos soon.
[ Sunday, October 17, 2010 ]
Kate joined the Girl Scouts as a Daisy, and I volunteered to be one of her troop leaders. We had our first meeting last week, and she had a blast. Some of her new school friends are in the same troop, so it was an easy experience. For me, the best part was when each girl was asked to stand up to introduce themselves, and to share one thing they really like. When it was Kate's turn, she stood up and said "My name is Kitty and one thing I really like is my Momma!"
Here's a photo of her with one of her Daisy friends, Megan.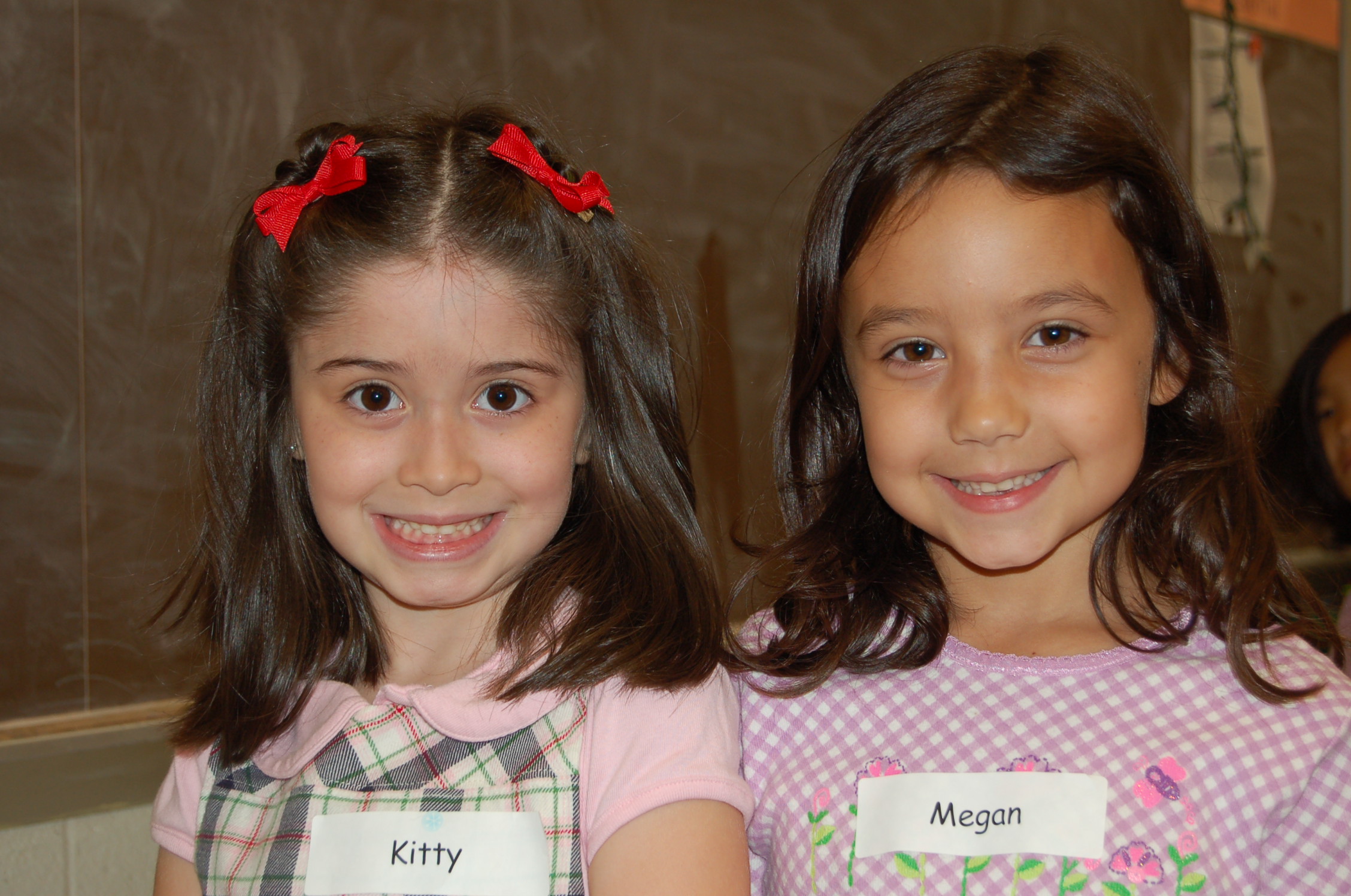 [ Tuesday, October 05, 2010 ]
About 3 days after starting school, Kate completely fell in love with it. She jumps out of bed in the morning and doesn't want to be late. Last week she had a little bit of a cold and was sad because we kept her at home for two days. No more anxiety, tears, bedtime serious talk, or complaints. It helps that her teacher is very young and energetic, and that she made quick friends with many of the kids in her class. One interesting thing is that she no longer naps in the afternoon during the week, so by the time she gets home at the end of the day, she is falling asleep standing up. Her afternoons are almost entirely booked - ice skating on Mondays, tennis on Tuesdays, drama on Wednesdays, voice lessons on Thursdays. We left Fridays open, but if it was up to her she would have some class on those afternoons as well. As a result of so much activity, we are slowly moving her bedtime up to give her a few extra minutes of rest.
[ Tuesday, September 14, 2010 ]
Kate decided to change her name. On the first day of school, she told everyone her name was Kitty. Her teacher even made a name tag for her that said "kitty". Funny enough, I had been calling her kitty for years because of her love of all things feline. Only after her teacher called me and introduced herself as "Kitty's kindergarten teacher" I realized she actually made it stick. And then I learned that Kitty is not an unusual nickname for someone called Katherine. Go figure.
[ Wednesday, September 08, 2010 ]
I was a wreck all day yesterday worrying about Kate. I had to almost physically restrain myself to avoid calling the school, but it paid off when I saw her happy smiling face at the end of the day. She LOVED school (and apparently stopped crying 2 minutes after I left). She chatted non-stop about all the fun she had, her new friends Colette and Ester, and - surprise, surprise - PE class. Kate inherited my laziness and hates exercising so this was great to hear! Unfortunately, all the wonderful fuzzy feelings about school faded this morning at drop-off time. There were some tears and mild clinging, but not nearly as bad as yesterday so perhaps tomorrow will be a dry morning!